For many years, massages have been used to treat many different medical conditions as well as help people relieve stress from their everyday lives. But unbeknownst to most, there's a difference between massage therapy and a relaxation massage. While both use a similar manual technique, they each have their own unique goals when it comes to patient outcomes.
Continue reading below for a breakdown of each as well as some guidance for making the right choice based on your needs.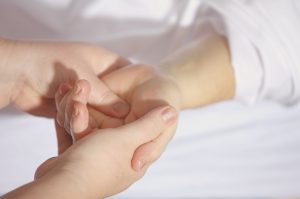 Relaxation Massage
This is the service offered at most spas. And while it may resemble that of massage therapy, it is in fact, entirely different. Relaxation massages are provided by masseuses who generally have little training and are solely focused on helping you relax, unwind and relieve any stress you may be experiencing. A masseuse is not required to complete any medical education or pass an exam and should not be considered a healthcare professional. If you're looking for a little R and R, then a relaxation massage at a spa is for you.
A relaxation massage can:
Massage Therapy
This is where things get a little more complicated. Unlike a relaxation massage, massage therapy is focused on helping patients treat various pain and medical conditions they may be suffering from. It is a prescribed treatment, not available to just anyone and is often covered by benefits (relaxation massages typically are not). Massage therapy is conducted by a Registered Massage Therapist, like the ones part of our team, who have hours upon hours of training and who have also passed multiple exams as required by the governing body.
Most commonly, massage therapy is used to treat back pain, arthritis and other muscle/joint pain, but it can also be successful in treating everything from chronic headaches to various sports injuries.
Massage therapy can:
Assist in pain control
Increase flexibility
Aid in injury recovery
Relieve general tension
And more.
Don't get us wrong, we're all for stress release and relaxation— as healthcare professionals we even recommend it. But it's important to understand when it's appropriate to seek each treatment to ensure you receive the relief you need for your specific condition.
You'll want to seek a relaxation massage if…
You're looking to relax, unwind or are suffering from minor tightness in less critical muscles and joints.
You'll want to seek massage therapy if…
You're suffering from minor to severe pain or discomfort caused by injury, stiff joints/muscles, repetitive tasks (workplace), a motor vehicle accident or some other cause.
We hope we've helped to shine some light on this topic and have provided you with some much-needed clarity when it comes to choosing the right treatment for your needs. As we mentioned above, we offer massage therapy courtesy of a registered massage therapist at our Guelph location and would be more than happy to assess your situation and decide if massage therapy would be beneficial. In the event that massage therapy is not your best option for treatment, we also offer physiotherapy, sports injury rehabilitation, acupuncture, custom bracing, hand therapy and much more that may be better suited for your needs. We encourage you to reach out to us by phone or email if you have any questions and one of our team members would be more than happy to assist you.